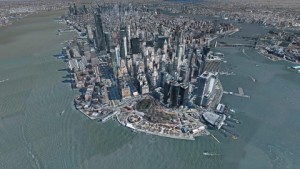 Aerial imagery business, Nearmap, launched its new 3-D product in a move that will revolutionize the way industries such as urban planning, architecture, construction, government and councils view and shape cities across Australia and the U.S. The company is also previewing its groundbreaking AI technology at its customer event, Navig8.
In an industry first, Nearmap 3-D allows customers to stream and export 3-D imagery on-demand at massive scale, through its proprietary MapBrowser web application. Additionally, because the imagery is updated frequently, businesses can work with the most current information to make better informed decisions.
Nearmap has developed new AI technology that is turning millions of aerial images, captured over a decade, multiple times a year, into valuable datasets. These datasets can be used to more accurately and efficiently measure change and quantify attributes, such as solar panels, pools, roofs or construction sites. Organizations ranging from small businesses to large companies and cities will be able to take advantage of AI-driven location intelligence.
Instant Access to 3-D through MapBrowser
Nearmap is making 3-D imagery accessible to anyone, in the same way it has with 2-D. While Nearmap has offered 3-D imagery since 2017, this new iteration of the technology allows users to instantly stream 3-D content at massive scale via its MapBrowser web application.
The light-weight platform offers customers a fully immersive 3-D experience, allowing them to visualize cities in 3-D from any direction, measure distances, and immediately export a custom area in a variety of 3-D formats at unprecedented speed – the download time is a matter of minutes for most requirements and only a few hours for very large footprints.
And like the best streaming services, Nearmap 3-D comes with an extensive library, more than 400,000 km2 covered. It is updated once a year and covers major urban areas in Australia and the U.S.
Petabytes of images, and a living data set
Nearmap AI technology is the result of more than two years' worth of research and development, and a team of close to 20 data scientists and machine learning engineers. The team, led by Dr. Michael Bewley, is using the petabytes of imagery that the business has captured over the past 10 years and turning it into a living dataset to accurately identify changes or quantify attributes from the Nearmap library of aerial imagery.
Nearmap has built highly accurate machine learning models and deployed them on a massive scale. The automated process, and the constantly learning engine, means that the AI technology can be applied to any new geography. Nearmap also applies the models to new surveys, generating fresh results with current imagery.
To date, Nearmap has performed analysis on over 1 million square kilometers of imagery across Australia and the U.S. (which constitutes about 80 million properties) and is performing more analysis every day. Nearmap is now inviting customers to take part in a beta program to experiment with various use cases.
"We don't prescribe how our technologies or content can be used by our customers," said Dr. Michael Bewley, Director of AI Systems at Nearmap. "Our solar customers could use the AI technology to easily identify where and when solar panels have been installed for maintenance jobs, to prospect new clients in an area where solar energy's popularity is on the rise; or a government entity that previously had the arduous task of tracking swimming pools or construction in their jurisdictions will be able to do it automatically."
Both technologies will be presented at Nearmap's flagship event, Navig8, in Perth on June 6, Melbourne on June 11 and Sydney on June 13.